ACC/LRR sensor setting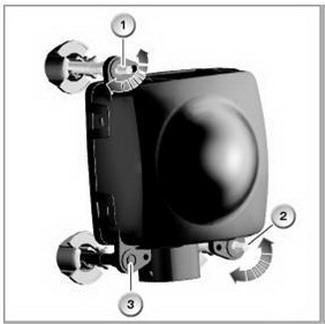 Adjusting screw ACC2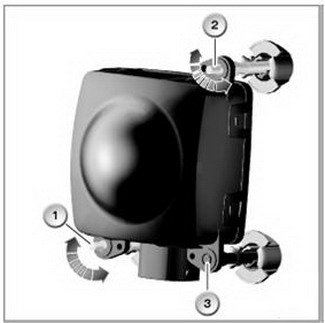 Adjusting screw ACC2
ACC/LRR sensor setting
The setting of the ACC or long range sensor (LRR = Long Range Radar) is required if:
· an calibration fault has been saved in the fault memory
· the sensor has been removed or installed
· a new sensor has been installed

Preconditions
The sensor setting must be made on a special setting bay with guide rails firmly fixed to the floor.
The sensor may only be set using the special tools and test equipment approved by BMW.
All test equipment must be in a satisfactory condition and must show no signs of damage.
Attention should be paid to ensuring that the guide rail and the neighboring area are free of dirt and other objects.

Notes on setting
The function of the ACC system depends greatly on the exact setting of the sensor. This is why the calibration must be made with the utmost care in line with the instructions in the test module.
Pay attention to the following points:
· The vehicle must not be damaged in the area of the ACC / LRR sensor.
· The bracket for the sensor must not be deformed.
· The sensor must be firmly snapped into place in the bracket.
· Before starting the setting procedure, connect the charger and diagnostic head.
· Check the air pressure in the tires and adjust if necessary.
· Engage the parking brake.
· Ensure that the vehicle is unevenly loaded.
· Remove the caps of the rim locks.
· When attaching the quick-action clamp, make sure that all the magnetic elements are correctly placed on the wheel bolts.
· During the setting procedure, under no circumstances may you lean on the vehicle.
· Never look directly into the light source of the laser pointer.

Adjusting screws
The ACC / LRR sensor is set by means of two adjusting screws.
Sensor ACC2
1: Adjusting screw, top left, for vertical calibration
2: Adjusting screw, bottom right, for horizontal calibration
3: Fixed mount

LRR Long Range Radar
1: Adjusting screw, bottom left, for horizontal calibration
2: Adjusting screw, top right, for vertical calibration
3: Fixed mount


AutoHex II (Diagnostic Scan tool)
is one of the best Professional scan tools to for BMW; Autohex allows you to diagnose, code, program/flash ecus, and add new keys for BMW. For more information: BMW Scan Tool

GDS KIA Ecu Flashing using AutoHex II

Describe the ACC/LRR sensor setting and adjustments

Find out Autohex II user's impressions about using this tool for BMW advanced services

AutoHex II is your best choice to have full access to dealer functions like coding, adjusting and modules flashing/programming, Contact us for prices

Join AutoHex Onboard Diagnostic Forum to share useful information about using onboard diagnostic functions and other tips