AutoHex II Hyundai and Kia Software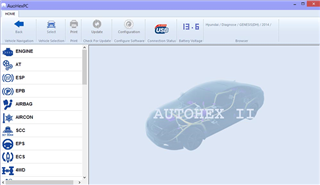 Hyundai Systems menu in AutoHex II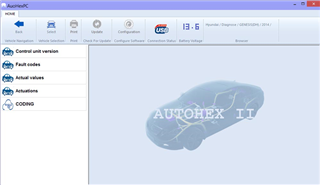 Hyundai Engine fnctions in AutoHex II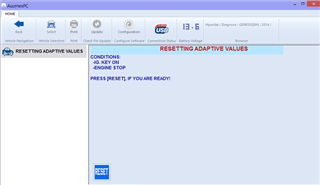 Rest Adaptation for Hyundai engine
AutoHex II is the best choice for professionals who work in Kia/Hyundai vehicles.
This tool takes you beyond the dealer level:
AutoHex II calculates the PIN CODE for models from year 2000 up to 2015.
AutoHex II able to correct mileage for most models after 2010 for Kia / Hyundai
Online help with schematic diagrams of more than 150,000 faults including photos to the part location (example: Fault P2030 in Hyundai Santafe 2009 ).
A to Z service functions you may need.
AutoHex II is 100% compatible with dealer software (GDS KIA and GDS Hyundai) last versions including ECU re flashing / Upgrade.
Some Functions
VIN to PIN

Autohex II calculate for you the required PIN code for some special services like Key matching

Mileage Correction

Autohex II can correct Mileage for most Kia and Hyundai vehicles

GDS KIA Ecu Flashing using AutoHex II

Intro to AutoHex II Hyundai and Kia Software

Find out Autohex II user's impressions about using this tool for BMW advanced services

In AutoHex onboard diagnostic forum you will find discussions how to change the configurations of the car by the professional special functions using AutoHex scan tool