Height-level calibration EHC E39/E53/E65/E61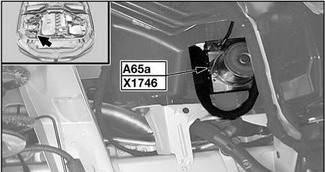 location of EHC control unit
Height-level calibration EHC E39/E53/E65/E61
After work on the air suspension system involving the control unit, correction values must be entered in the control unit. These correction values are determined and entered automatically in the control unit in this test module after entering target and actual values for the E39 and E53 as well as after entering the rim size and actual values on the E65 and E61.
Height-level calibration
Height-level calibration must be carried out after the following operations:
· Replacement of the control unit
· Replacement of one or both of the height-level sensors
· Replacement of the wiring harness
Before the height-level calibration is run, the following points must be observed:
The vehicle must be in a horizontal position.
The chassis must not be tensioned.
The air suspension must have ceased operation (to be safe, switch the engine on and off).
The supply must be ensured (check battery voltage).
During the height-level calibration, the vehicle must not be loaded or unloaded.
Before calibration, check the height once again.
The height-level calibration is run automatically after entering target and actual value (gap wheel house edge / rim flange at bottom). The target values can be found in the (Repair instructions).
After the height-level calibration, the assembly line mode is automatically deleted. Control operation starts with the engine running.

AutoHex II (Diagnostic Scan tool)
is one of the best Professional scan tools to for BMW; Autohex allows you to diagnose, code, program/flash ecus, and add new keys for BMW. For more information: BMW Scan Tool

Changing Dmaged DME in F Series

Describe the purpose of Height-level calibration in (EHC) system and its main components.

Find out Autohex II user's impressions about using this tool for BMW advanced services

AutoHex II is your best choice to have full access to dealer functions like coding, adjusting and modules flashing/programming, Contact us for prices

AutoHex Onboard Diagnostic Forum discusses different subjects, if you want to know more about Mercedes Benz, BMW, VW, Audi, Toyota, Nissan, or other cars, join the forum now