Rain / driving light sensor (RLS) Function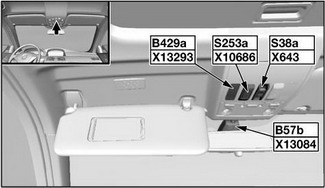 rain-driving light sensor
Rain / driving light sensor (RLS)
The rain-driving light sensor has integrated sensors that sense the wetness on the windshield glass and the ambient light.
Rain sensor
The rain sensor is an optical system. It consists of an optical element bonded on the windshield and an electronic element. The electronic evaluation unit and 4 optical transmitter and receiver diodes are integrated in the electronic element.

Function
Operating button on the wiper switch activates the rain sensor. When the rain sensor is active, the green LED on the wiper switch lights up.
When the rain sensor is activated, visual feedback is given to the driver in that one wiping cycle is executed first. Then, the transmitter diodes emit an infrared light which is guided across the optical element to the windshield. If the windshield is completely dry and clean, the infrared light is fully reflected to the receiver diodes.
If there is water or dirt in the area of the optical element on the windshield, full reflection of the infrared light is no longer possible. Part of the light penetrates the windshield so that only part of the light arrives at the receiver diodes. The electronic evaluation unit detects on the basis of the missing quantity of light the degree of wetness on the windshield glass and sends a signal across the K-CAN data bus. In response, the wiper module executes one wiping cycle. In the case of heavy rain, intermittent operation shifts into the continuous wiping mode.
A heating element integrated in the rain sensor prevents misting of the optical element or the diodes.
The sensitivity of the rain sensor can be varied in 4 sensitivity stages by means of the knurled wheel on the wiper/washer switch. Each time the adjuster wheel is moved in the (Increase sensitivity) direction (upwards), a wipe cycle is carried out.
When the vehicle is at a standstill, there is an automatic reduction of the sensitivity so that the wiper usually runs in intermittent mode.
If the rain sensor fails, the wiper runs at a fixed time interval.
For safety reasons, the rain sensor is switched off when terminal R is switched off.
Requirements for faultless operation of the rain sensor are:
· No wax smear on the windshield
· Wiper blades OK
· Windshield glass free of faults in the area of the rain sensor
· Optical element bonded free of bubbles with the windshield glass

Initialization
Due to the optical process, the rain sensor has to be adapted to the windshield. This adaptation takes place at initialization.
Requirement for faultless initialization is that the windscreen glass is dry, clean and free of defects in the area of the rain sensor.
The initialization is performed using the service function (Initialize rain sensor) in the BMW diagnosis system.
In the service function, the adaptation values in the rain sensor are deleted. This is followed by adjustment of the sensor system to the windshield based on the following sequence:
· Switching off the rain sensor
· Switch off terminal 15 and terminal R
· Switch on terminal R and terminal 15 and wait 10 seconds.
In the 10 seconds waiting period, the new adaptation values are determined and stored.
Initialization of the rain sensor is necessary:
· After replacing the windshield
· Fitting a used rain-driving light sensor

Note:
A used sensor must be coded beforehand

Driving light sensor
The driving light sensor consists of two photodiodes and an electronic evaluation unit. The photodiodes are arranged in such a way that both light striking the sensor from the front and light striking the sensor from above (ambient light) are sensed.
If there is a change in the lighting conditions, a signal is issued across the data bus K-CAN. When the automatic driving light system is active, the light module switches the driving light on or off.
The light sensing is active as of terminal R, independent of whether the automatic driving light system is switched on or off.
After replacement, the driving light sensor must be coded via the vehicle order and is thus adapted to the windscreen.

AutoHex II (Diagnostic Scan tool)
is one of the best Professional scan tools to for BMW; Autohex allows you to diagnose, code, program/flash ecus, and add new keys for BMW. For more information: BMW Scan Tool

Programming BMW F Series

Describe the purpose of rain-driving light sensor and its main functions.

Find out Autohex II user's impressions about using this tool for BMW advanced services

AutoHex II is your best choice to have full access to dealer functions like coding, adjusting and modules flashing/programming, Contact us for prices

In AutoHex onboard diagnostic forum you will find discussions how to change the configurations of the car by the professional special functions using AutoHex scan tool