FIXED-VALUE RESISTORS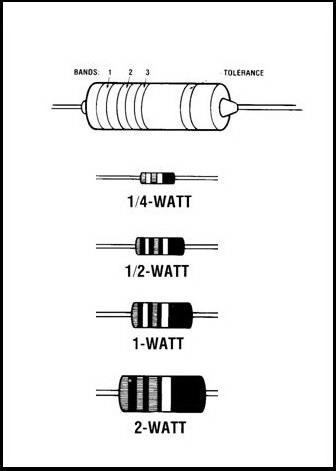 Carbon resistors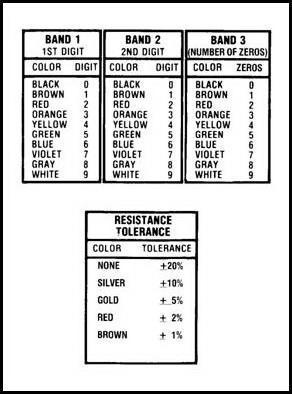 The Bands Explanation
Two types of fixed-value resistors are used:
1.
Wire-wound resistors
are made with coils of resistance wire. Sometimes called power resistors, they are very accurate and heat stable. The resistance value is marked.
2.
Carbon resistors
are common in electronic systems. Carbon is mixed with binder; the more carbon, the lower the resistance. Some have the resistance value stamped on, others are rated by watts of power; most have color-code bands to show the resistance value. Four bands are used ... the first two bands give the resistance digits, the next band is the number of zeros, and the last band gives the "tolerance."
A resistor with four bands red, green, black, and brown from left to right, the first two bands set the digits ... red (2), green (5), the next band is the number of zeros. Black is "0" zeros. So the resistor has a base value of 25 Ohm.
And, the last band is the tolerance brown (1 %). So, the resistance value is "25 ohms plus or minus 0.25 ohms" (24.75 Ohms to 25.25 Ohms).
AutoHex (Auto Diagnostic scanner)
is one of the best Professional scan tools to for Cars; Autohex Scanner can test the Systems of the Car effectively and easily, with many powerful features to help you in diagnosing and testing.

BMW Key Programming by HTag Pro, All keys lost

Wire-wound resistors are made with coils of resistance wire. Sometimes called power resistors, they are very accurate and heat stable. The resistance value is marked. · Carbon resistors are common in electronic systems. Carbon is mixed with binder; the more carbon, the lower the resistance

Find out Autohex II user's impressions about using this tool for BMW advanced services

AutoHex II is your best choice to have full access to dealer functions like coding, adjusting and modules flashing/programming, Contact us for prices

The best place where you can share information about cars repair and onboard diagnostic procedures is an Automotive Tech Forum, AutoHex Onboard Diagnostic Forum invites you to join