Testing BMW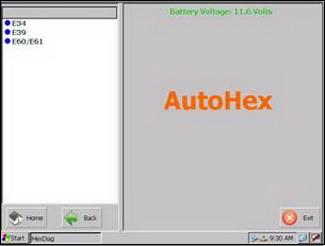 BMW Series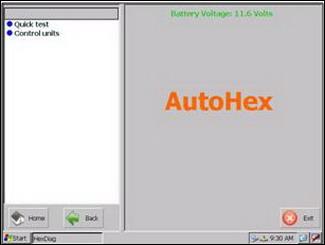 BMW Classes
Testing BMW
With
AutoHex Diagnostic scan tool
(
Hexdiag
), you have to choose a Model then choose a vehicle type as for example E39.
The left menu will show two options:
1.
Quick-test
(complete car scan / test) (
HexDiag
) BMW software detects all BMW ECUs (electronic control units) installed in car and reads all diagnostic fault codes. Status symbols:
(V) For (NO fault codes).
(X) For (with fault codes).
(!) The system cannot be found in current car.
(
Quick Erase
) button allows you to erase fault codes of all the faulted systems. After using (
Quick Erase
) function, the faulted systems on the left menu will move to the right menu, if the system still has fault code its status will be (
NOT OK
) otherwise it becomes (
OK
).
2.
Control Units
When you click on it, you will see three categories:

Find out Autohex II user's impressions about using this tool for BMW advanced services

Join AutoHex Onboard Diagnostic Forum to share useful information about using onboard diagnostic functions and other tips

Our Technical information has rich, deep, and very useful infromation and programs.You can find basics, also you can find very specific information