AutoHex Scan Tool: VW/Audi Qucik Test/Erase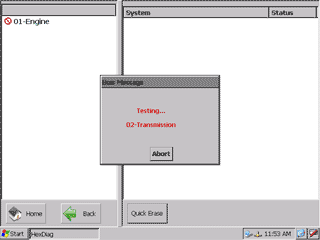 VW/Audi/Skoda/Seat Quick Test
After you enter the VW program in
AutoHex scan tool
, you can click on Quick Test to start this procedure.
In VW we give 3 different ways to make a quick test:
Common Quick Test:
which means that AutoHex software will test only the common systems in VW, the common systems are:
Engine, Transmission, ABS, Airbag, Instrument cluster, Immobilizer, Central locks, central electronics, steering assist, steering wheel electronics, central control module, interior monitoring, AC, and Radio.

This function is recommended for VW cars before 2006.
CAN BUS quick Test:
This function is used for cars manufactured after 2005, which has internally a gateway, it is faster than Common quick test and it gives the full results of all available systems in the car.
Full quick test:
This function is not recommended to be used; because it will do a blind quick test (about 160 different systems) so it will take a long time.
After selecting the preferred way to do a quick test, AutoHex scan tool software will start testing Ecus and reporting the status of each Ecu.
To do a bulk erase to all the faulty system, you can easily click on Quick Erase, also quick erase will report the results of ECUs after they have been erased (ok, not ok)
The Quick Test function in VW, Audi, Skoda and Seat is very important in the professional new scan tools, it shows the user the faulty Ecus in the car during seconds

Find out Autohex II user's impressions about using this tool for BMW advanced services

AutoHex Auto Diagnostic Scanner provides rich functions for coding and adaptation, to learn more visit this section