Autohex Scan Tool Operating system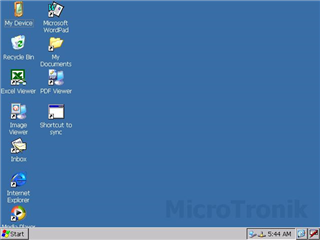 Win CE Operating System
When
AutoHex Diagnostic scan tool
starts up, the following desktop will appear in your screen in the bottom of the screen you will see the Taskbar:
1. (
Start
) button
2.
LAN settings and connection status and Time
3. (
Show desktop
) button
4. (
Show keyboard
) button.
On the desktop, you can find the most common components of the OS as:
My device, Recycle Bin, Excel Viewer, Image Viewer, Inbox to receive and send Emails, Internet Explorer, Media Player, Microsoft WordPad, My documents, PDF Viewer.

Using the software Keyboard and mouse: You can use the software keyboard by clicking the keyboard Icon in right end of the Taskbar. Software keyboard operation when it is necessary to input characters, use the software keyboard. Methods for use are as follows. The keyboard can input English alpha-numeric.
· To delete a character, use the (
backspace
) key.
· To switch between uppercase and lowercase English letters, use the Shift key.
· To input accented characters (such as à and Ä) not displayed on the keyboard, touch the (áü) key. The keyboard displays switches to accented characters.
To know more about Windows CE:
Introduction to Windows CE

Introduction of Microsoft Windows CE, describing the main features of Windows CE and it is useful to adopted by AutoHex diagnostic scan tools

Autohex and windows CE

Details of Microtronik adopted and configured the Windows CE for AutoHex scan tool, Like how to adjust brightness and touch screen , how to use internet, emails, and other features
An introduction of the AutoHex scan tool operating system, The features of Windows CE and what benifits of using Windows CE as an operating system to this scan tool.

Find out Autohex II user's impressions about using this tool for BMW advanced services

The best place where you can share information about cars repair and onboard diagnostic procedures is an Automotive Tech Forum, AutoHex Onboard Diagnostic Forum invites you to join